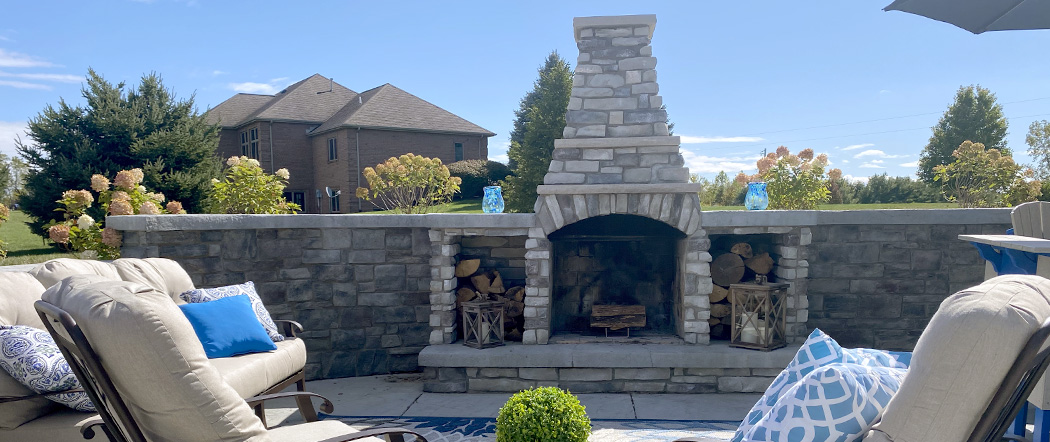 Outdoor Fireplace & Pit
Serving Fort Wayne, IN and surrounding areas
If you have ever longed to create the perfect social environment for family gatherings, the custom fire pit and outdoor fireplace contractors in Fort Wayne at Wilmer Concrete can help you sift through a wide variety of outdoor fireplace ideas from stone to brick.
Whether you prefer the traditional outdoor wood-burning fireplace or the more modern outdoor gas fireplace or want a custom stone or brick fire pit, we can help you decide which is best for you and your family. Wilmer Concrete/Indiana Hardscapes in Fort Wayne specialize in outdoor stone fireplace and outdoor brick fireplace and fire pit options. All are great options for adding style and functionality to your outdoor living area – allowing you to entertain family and friends in style and unmatched outdoor comfort!
Outdoor Gas Fireplace vs. Outdoor Wood-burning Fireplace
Some people prefer the convenience of an outdoor gas fireplace. There's no swinging of the ax or using up valuable backyard living space for the storage of firewood. And, there are no late-night, mid-party runs to the local hardware or grocery store to keep the fire burning. Your outdoor gas fireplace can easily be installed to connect to an existing gas line, making it an easy, simple, and reliable way to keep your outdoor living space heated.
If you are looking for something a little bit more traditional, Wilmer Concrete has another fantastic solution. Some people live for the intoxicating aroma of a natural, outdoor wood-burning fireplace or fire pit with its warm natural glow and warmth.
Either way, Wilmer Concrete has an outdoor fireplace idea for you! Whether you're looking for the modern convenience and ease-of-use of an outdoor gas fireplace or you prefer your backyard smelling like a real campsite, we've got you covered. We can create gas or wood-burning fireplaces as well as custom brick or stone fire pits to suit your needs. We make our own concrete fire bowls too!
Get Started on Your Project
Error: Contact form not found.
Imagine sitting outside on a cool evening cozied up by your outdoor fireplace or entertaining friends and family on a cool fall or spring day. Outdoor fireplaces allow you to extend your outdoor time to the cooler months. 
Whether it's freestanding, built into your hardscape, or under a pergola, you'll love sitting around your custom gas or wood-burning fireplace.
Outdoor Fireplace Contractors in Fort Wayne
Ready to add an outdoor fireplace to your Fort Wayne area home? You've come to the right place! Contact the outdoor fireplace contractors in Fort Wayne at Wilmer Concrete today to discuss your outdoor fireplace and fire pit needs, we are happy to help!
Wilmer Concrete & Indiana Hardscapes in Fort Wayne services residential and commercial clients in Northern Indiana, Northeast Ohio, and Southern Michigan.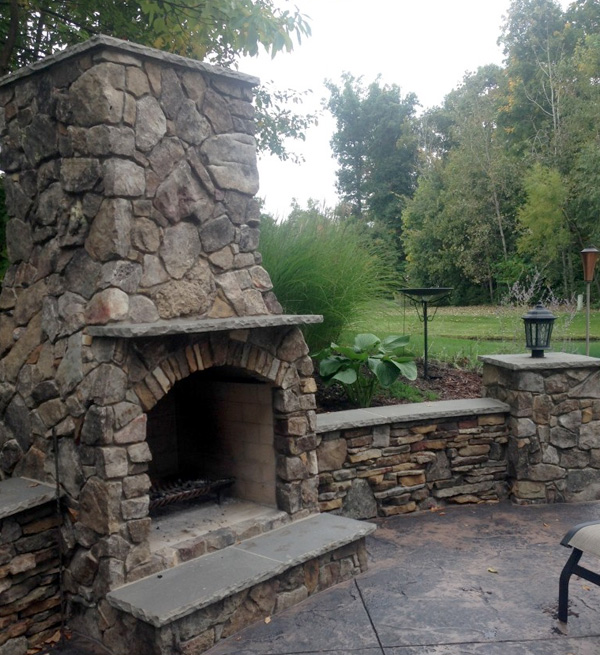 Outdoor Fireplace & Firepit Ideas
Let's Get Started
Contact us today to discuss your hardscape and landscape project.