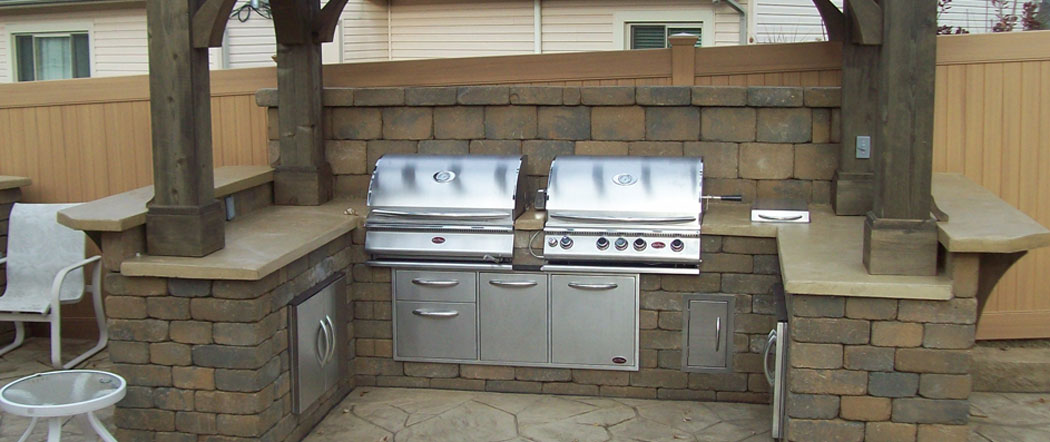 Outdoor Kitchen
Building Custom Outdoor Kitchens in Fort Wayne, IN and surrounding areas
The kitchen of your dreams … outdoors! The professional hardscape and landscape designers at Wilmer Concrete/Indiana Hardscapes can transform your outdoor living space into the outdoor kitchen of your dreams complete with a kitchen island and built-in grill.
Tired of slaving over the hot stove while your family and guests are outside enjoying the party? Imagine how much time is wasted by being indoors cooking when you would rather be outside! Adding an outdoor kitchen is the only way to solve that problem. The skilled team at Wilmer Concrete/Indiana Hardscapes in Fort Wayne, IN can work with you every step of the way on all your custom outdoor kitchen ideas and make your dreams a reality. Whether it's adding an outdoor kitchen island or creating an outdoor BBQ kitchen with a built-in grill island, Wilmer Concrete/Indiana Hardscapes can create an area worthy of praise that adds resale value to your home and property, while increasing the amount of time you get to spend with your friends and family.
Why spend time indoors cooking when you're entertaining outdoors? If you're interested in having an outdoor kitchen installed on your Fort Wayne area home, contact our contr.ators today to larn more
Building an Outdoor Kitchen
Wilmer Concrete/Indiana Hardscapes will be there every step of the way to customize and build your new outdoor kitchen. If you are unsure of exactly what you want, then tour the showroom to get fresh inspiration for your new outdoor dining area. Our contact us to schedule a consultation and a member of our dedicated team will meet with you to discuss your outdoor kitchen ideas and survey the existing area. Then, Wilmer Concrete/Indiana Hardscapes will put those dreams to blueprint and develop an outdoor kitchen design. Using only high-quality materials that you help pick out, the next step is to expertly construct your dream outdoor kitchen. Finally, relax and enjoy the outdoors in your new outdoor kitchen with your family and friends.
Get Started on Your Project
Benefits of an Outdoor Kitchen
There are many benefits of adding an outdoor kitchen to your outdoor living space.
The perfect entertaining space
Extends your living area
Enjoy more time outdoors
Spend more time with family & friends instead of inside cooking
Increases value of your home
Makes grill nights more enjoyable
Keep food smells outside
Outdoor Kitchens in Fort Wayne
Stop dreaming and bring your new outdoor kitchen to life! The team to count on for outdoor kitchens in Fort Wayne is Wilmer Concrete/Indiana Hardscapes. In business since 1963, the experienced contractors at Wilmer Construction/Indiana Hardscapes provide excellent service and can construct a unique new addition to your home. Contact us today to discuss your outdoor kitchen ideas.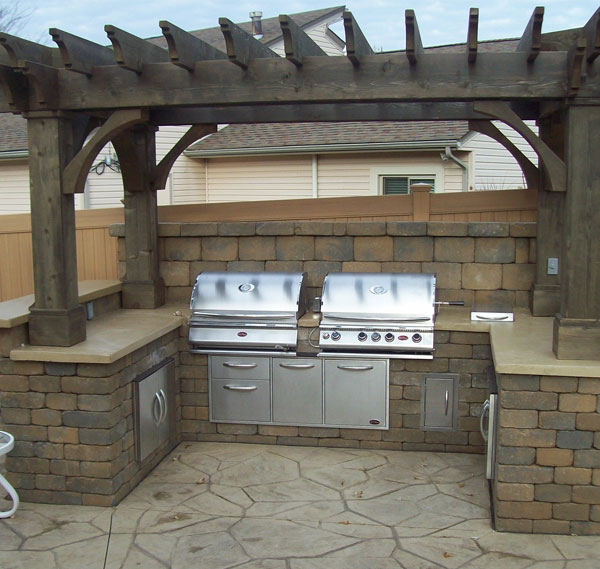 Let's Get Started
Contact us today to discuss your hardscape and landscape project.