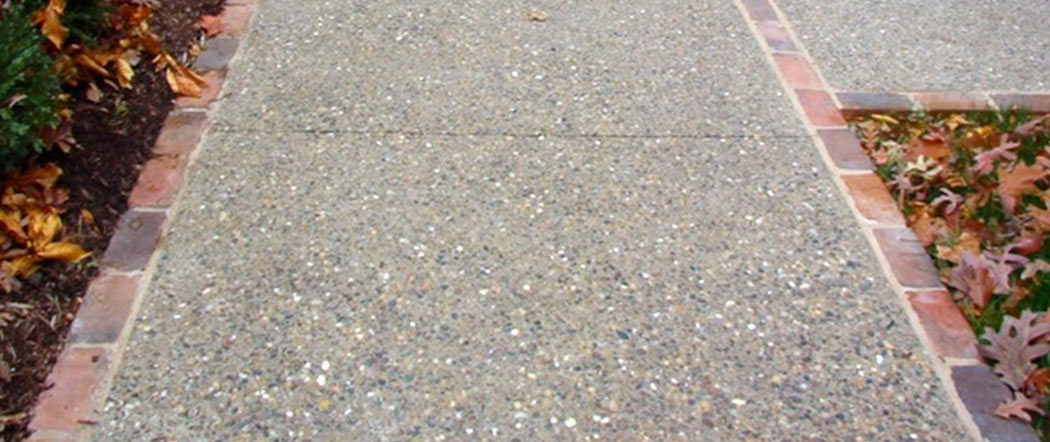 Exposed Aggregate Concrete
Serving Fort Wayne, IN and surrounding areas
Turn your basic concrete patio, walkway, or driveway into a beautiful area that will add curb appeal and value to your property. With exposed aggregate, we can transform concrete into your new favorite space.
What is Exposed Aggregate?
Exposed Aggregate is one of the decorative concrete finishes that we offer. It is applied to any existing concrete to give it a natural texture and decorative look. To achieve this look, our concrete masons pour and go through all of the steps of regular concrete up until the point where the concrete is hard enough to walk on.  At that point, we wash away the top layers of cement to expose the special mix of gravel to give it a unique look. After the underlying surface is revealed, that new layer of exposed concrete is either polished or combined with decorative bricks or stones to create a unique and appealing new surface. Due to its high durability and low maintenance, exposed aggregate is ideal for high traffic areas such as patios, around a pool, driveways, sidewalks, or anywhere good traction is desired.
Where Can We Use Exposed Aggregate?
By revealing the raw layer of concrete underneath, it creates an area that is highly durable for areas where you need a non-skid finish; such as a pool area or a driveway. Because of the durable surface created by this technique, exposed aggregate is ideal for creating:
Exposed Aggregate Patio
Exposed Aggregate Driveway
Exposed Aggregate Pool Decks
Get Started on Your Project
Error: Contact form not found.
Exposed Aggregate Contractors in Fort Wayne
In business since 1963, Wilmer Concrete/Indiana Hardscapes is ranked #1 among exposed aggregate contractors in Fort Wayne and Northeast Indiana! Wilmer Concrete/Indiana Hardscapes' knowledgeable and dedicated team can bring any dull and boring concrete finish back to life, all while increasing the value of your home in the process! If you desire an exposed aggregate patio, driveway, pool deck, or other high-traffic areas, call today and speak with one of our experienced Fort Wayne concrete contractors to discuss your plans!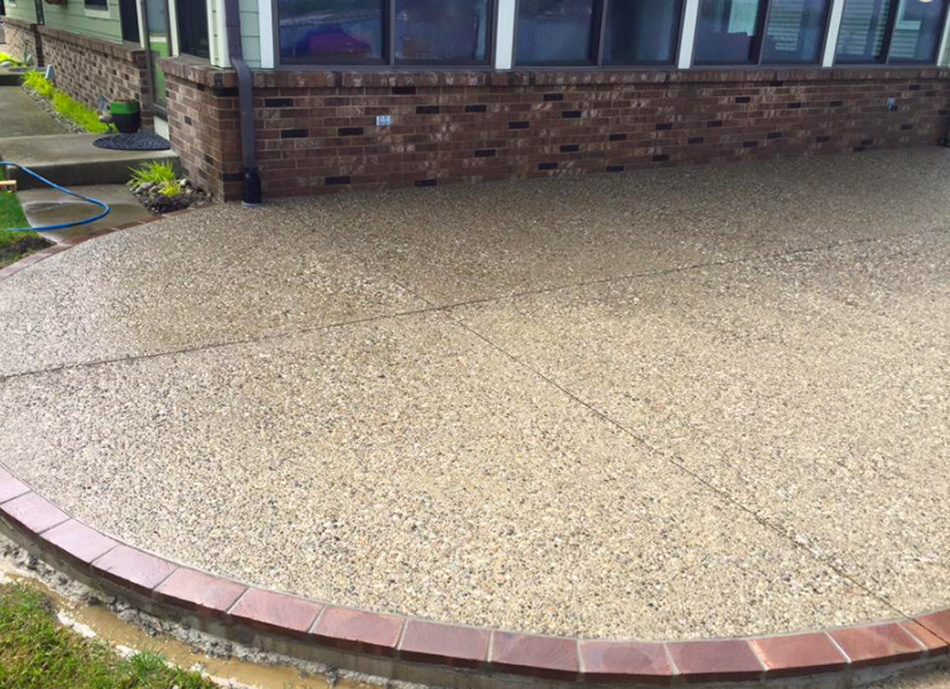 Exposed Aggregate Pictures
Let's Get Started
Contact us today to discuss your hardscape and landscape project.