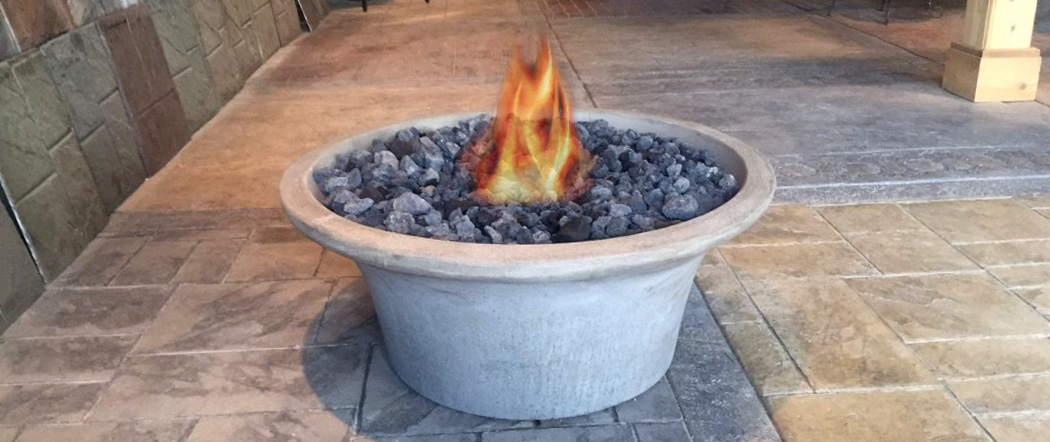 Fire Bowls
Serving Fort Wayne, IN and surrounding areas
A gas-fired, concrete fire bowl is a wonderful way to add warmth and elegance to your outdoor living space. Our fire bowls are beautifully handcrafted by our artisans with high-strength, fiber-reinforced concrete, giving them the ability to stand up to the harshest of elements and last a lifetime. Best of all, they are gas fire pit bowls!
Being gas-fired, you never have to worry about the inconvenience of chopping and storing firewood again. You also can be confident that you will not be covered in soot and smelling like campfire for several days after your latest evening gathering!
Whether you are looking to create a new centerpiece in your backyard, or simply add a touch of modern grace to your front patio, a fire pit bowl is a great option. The fire bowl contractors in Fort Wayne at Wilmer Concrete will provide you with a variety of beautiful designs and colors to fit your individual needs and preferences.
Adding warmth, sophistication and simply a modern touch to any outdoor living space can be done simply and elegantly without spending a fortune. Our concrete fire bowls are very cost-effective, beautifully designed and a practical way to offer a comfortable outdoor option for you and all your guests.
Concrete Fire Bowls vs. Metal Fire Pits
When deciding which type of fire pit is best for your outdoor living space, it is important to understand the reasons that a concrete fire bowl is more than likely a better fit for your long-term needs.
Concrete fire pit bowls have a fabulous reputation for unrivaled durability, especially when compared with metal fire pits. Metal fire pits are usually painted black to prevent discolorations; however, this means that after years of use the finish tends to fade, especially if you are burning wood. Once a metal fire pit has faded, or worse, rusted, you are faced with the dilemma: endure the faded look or purchase another!
By using a concrete fire pit bowl instead, you can rest assured that you will create that timeless look of style and elegance, without the added worry of a potential replacement just a few short years later. Concrete fire pit bowls are a wonderful way to impress your friends, create a warm feel for your outdoor area, all the while ensuring that your friends and family are comfortable… for decades to come. Looking for something a little bigger? We also offer custom brick or stone outdoor fireplaces & fire pits.
Get Started on Your Project
Error: Contact form not found.
Fire Bowl Contractors in Fort Wayne
If you have been considering a concrete fire pit bowl, we would love to chat. Our team will work alongside your favorite plumbing professional throughout the installation to ensure that you get that timeless warmth and sophisticated look you are after! Contact our fire bowl contractors in Fort Wayne today to discuss your needs for a modern gas fire pit. Our fire bowls can also be used as planters!
Outdoor Fireplace Contractors in Fort Wayne
Wilmer Concrete & Indiana Hardscapes in Fort Wayne services residential and commercial clients in Northern Indiana, Northeast Ohio, and Southern Michigan. Contact the outdoor fireplace contractors in Fort Wayne at Wilmer Concrete for more information about your outdoor fireplace and fire pit needs, we are happy to help!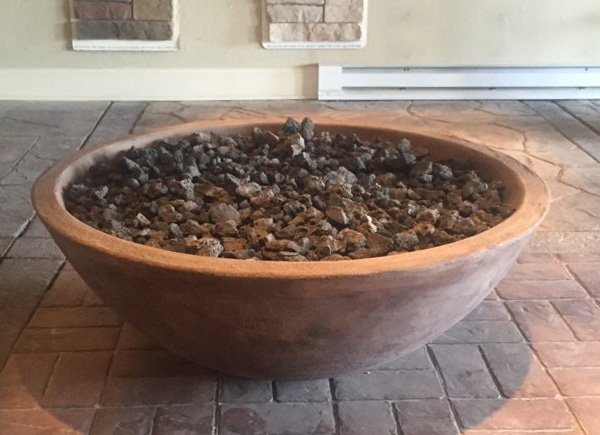 Let's Get Started
Contact us today to discuss your hardscape and landscape project.